The Hollywood bowl
With a stage that has welcomed practically every notable star, the amphitheater is one of the most well-known locations in the whole world. We'll even go so far as to argue that you haven't truly experienced Los Angeles until you've attended a performance here.
Without outdoor musical performances beneath the stars in the Bowl, a sizable natural amphitheater in the Hollywood Hills, summers in Los Angeles simply wouldn't be the same. Symphonies, jazz ensembles are all part of its yearly season, which typically spans from June to September. Bring a blanket or jacket because it becomes chilly at night.
For a pre-show picnic, arrive early to get a table in the park-like grounds. If you don't want to bring your own food, there are a number of food stalls nearby. The Hollywood Bowl Orchestra and LA Philharmonic have their summer home there, and during the season, certain Tuesdays and Thursdays have open rehearsals.
The LA Phil and The Lucques Group, led by the James Beard Award-winning team of Chef Suzanne Goin and Restaurateur/Wine Director Caroline Styne, established a ten-year culinary relationship in August 2015. All around the Bowl, from the wine bar and on-site restaurants to the marketplace and concessions, The Lucques Group offers exceptional food and wine services. The trio's celebrated LA restaurants, a.o.c., Lucques, and Tavern, serve gourmet seasonal meals and superb wine pairings that concertgoers can anticipate.

Getting in and out of the Hollywood Bowl is the most challenging aspect of attending an event there. After the show, expect a long wait before you can drive out into traffic because parking is pricey. You may use ridesharing services or park your car at one of the Bowl's Park & Ride spaces scattered around the city.
Walt Disney Hall
The iconic musical venue that serves as the Los Angeles Philharmonic's home base has hosted both jazz greats and contemporary bands. a 2265-seat arena called the Walt Disney Concert Hall. Its swaying steel forms were inspired by Frank Gehry, the architect who won the Pritzker Prize and whose designs have been compared to shifting musical notes.
Free self-guided audio tours are available most days, and the Music Center also provides free 90-minute docent-led tours that take you inside each of its four theaters.For the most exhilarating experience attending a performance will do.
The Roy and Edna Disney/CalArts Theater (REDCAT), a multi-media arts space for cutting-edge visual, performing, and video arts, is housed inside Walt Disney Concert Hall. In addition to promoting emerging talent, REDCAT has won recognition for delivering ground-breaking, well-known artists and shows to L.A. audiences since it opened in November 2003.

There are several indoor and outdoor event locations accessible. The charming Blue Ribbon Garden is the perfect setting for an amazing outdoor wedding ceremony, or you may hold a seated supper extravaganza within the eye-catching design of the Founders Room or BP Hall. A crowd of 2,252 people may be accommodated in the spectacular WDCH theatre by renting it.
La Brea Tar Pits
At this site, the only ongoing urban ice age excavation site in the world, countless of animals died between 40,000 and 10,000 years ago after becoming unintentionally entrapped in the trenches.

The on-site museum features fossils from the pits and provides information on the several odd animals, such as the Columbian mammoth and the Harlan's ground sloth, that formerly inhabited the LA Basin. Visitors may meet with these researchers at the Fossil Lab to learn more about what occurs after excavation as paleontologists continue to find discoveries at the location. A 3-D showing of the movie Titans of the Ice Age will teach you more about the time when mammoths and dire wolves roamed Los Angeles.
Santa Monica Mountains
The Santa Monica Mountains' most northwesterly section is a paradise for hikers, trekkers, and mountain bikers. It features breathtaking red-rock canyons, granite outcrops, and breathtaking sea vistas.The longest route in the region, the Backbone Path connects all of the state parks. It is 67 miles long total, from Will Rogers to Point Mugu State Park, and may be completed in a few days.
Many shorter hikes are available as well: Climb 3,111-foot Sandstone Peak, the recreation area's highest point, from the Circle X Ranch trailhead for a view of the jagged skyline of downtown and a vast expanse of the Pacific Ocean studded with islands. The Roberts Ranch stone remains are located in Solstice Canyon, only a short stroll down a creek that is shaded by oak and sycamore trees. Wander around Western Town at Paramount Ranch, where actors like Bob Hope and Gary Cooper played out scenes for 1940s classics.
The Museum of Neon Art
The collection at this little museum in the center of Glendale has storied neon signs from places like the (defunct) Brown Derby, Pep Boys auto-repair shops, and the Chinese Theatre. Neon signage is a defining feature of LA's landscape. The Museum of Neon Art has spent more than three decades displaying classic neon signs, electric and kinetic fine art, and other works created solely for electric media.

Along with ongoing and one-time displays of neon signs and other light art, the museum also hosts Neon Night Walks and Neon Cruises on open-topped double-decker buses to allow visitors to observe local neon signs up close.

Rodeo Drive
No vacation to Los Angeles would be complete without a stroll along Rodeo Drive, the renowned three-block ribbon of elegance in Beverly Hills, where you can go on your very own Pretty Woman shopping spree (even if it is expensive and unabashedly arrogant) "Big error. Huge..."). In 1961, fashion merchant Fred Hayman launched Giorgio Beverly Hills, the first opulent store on the strip.

Visit the retail center Americana at Brand if you're searching for something a little less expensive. With an 18-screen multiplex, some 30 restaurants and food stands, and some excellent - if very corporate - shops, it has the sense of an extended pedestrian street.
Los Angeles County Museum of Art
Here, you'll find one of the greatest collections of Islamic art in the whole world, as well as pieces by well-known artists like Cassatt, Rivera, Hockney, and Hepworth, as well as the eye-catching project Urban Light by LA sculptor Chris Burden.
Its 100,000+ pieces of artwork include a millennium's worth of Chinese, Japanese, pre-Columbian, ancient Greek, Roman, and Egyptian sculpture. The biggest art museum in the western US.
There are also well-liked touring exhibits, movie showings, readings, and Friday night painting courses.
The Broad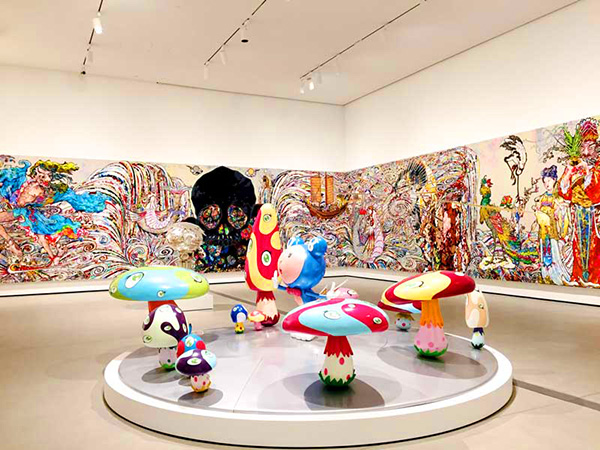 The museum is crammed with pop-art sculptures, installations, videos, paintings, and paintings by luminaries like Andy Warhol, Robert Rauschenberg, Keith Haring, Cindy Sherman, as well as huge, pop-art pieces by Japanese artist Takashi Murakami.

To experience Yayoi Kusama's extremely well-liked Infinity Mirrored Room, sign up ahead of time. You can also enjoy the galleries, which frequently feature artworks from the Broad's permanent collection, which is regarded as one of the most important collections of postwar and contemporary art in existence.
The Griffith Observatory
Griffith Observatory looms above Los Angeles like a monstrous spaceship, keeping a watch on both the cosmos above and the palm-lined boulevards below.
This art deco giant, which has been flaunted on both the little and big screens, is one of the city's great landmarks.

The location offers magnificent planetarium performances, interesting exhibitions, and attractive murals in addition to its stunning architecture and grand views. Broad views of LA's skyscrapers and mansions, endless roads, rocky hills, and, of course, the Hollywood sign can be seen from the observatory built in 1935.
Getty Center

From medieval triptychs to starry skies painted by Van Gogh, this multi-billion museum of art displays centuries of glorious creativity.Then there are the breathtaking gardens, which are dotted with brilliant flowers, renowned sculptures, and trickling water.However, the best part is that everything is free besides parking.
The Getty Center is a cultural fortress in the sky, offers highs in both the real and metaphorical sense. First, there is the uplifting view of the LA basin's unrepentant expansion, the Pacific Ocean, and hillside homes.